Five treasures to ponder that can enhance any safari experience, depending on your itinerary.
1. The perfect rest stop.  In this case the ideal choo – Swahili for toilet. Horrific tales are told of holes in the ground,  commodes sitting like islands surrounded by suspicious stinky gunk,  toilets in various stages of decomposition, and odors so toxic, a gasmask would be needed.  So when I visited two perfect potties during  one safari I was giddy.  Both facilities located behind curio shops near Mt. Kenya, were spotless, smelled fresh and offered plenty of soap and towels.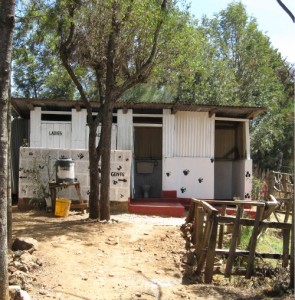 2.  I love Serena  Mountain Lodge that's perched on the slopes of Mt. Kenya.  Built for nocturnal game viewing, it resembles a gigantic tree house and offers a nice diversion from the usual plains game.  Since the nights are cold and the lodge sans insulation, turndown service tucks a red flannel hot water bottle  under the sheets.  A comforting way to drift off.
3.  Nakumatt Junction Shopping Centre at the intersection of Ngong and Dagoretti Roads in Karen, and Nakumatt Crossroads on Langata Road make shopping easy.  I can exchange dollars, drop off film for processing, browse the boutiques, stock up on Imodium, replenish bottled water and snacks, then head out on safari. Fantastic!
4.  In Maasai Mara National Reserve one expects to view an assortment of wildlife accompanied by carnivores, not a cell phone tower.  Into our third day without cell phone usage, excitement was palpable when we spotted the mega tower.  By the time we were within close proximity, all of the occupants of my van, including moi, had their phones out, busily checking messages and texting.  
5. The Yotel. This little hideaway isn't in Africa, but it's on the way and contributes to your sanity, so that once you arrive in Nairobi you might be able to keep your eyes open all day. Tucked inside terminal four at London's Heathrow Airport, the Yotel is a clean, reasonably priced place to regroup and snooze between connecting flights.  Next week's blog will have all the latest Yotel details.