Julius Kipng'etich, director of the Kenya Wildlife Service (KWS), resigned yesterday and with his exit many issues go unresolved.
He says his departure is in pursuit of personal interests, but is it really?
With March elections looming was this cleaning house so-to-speak? And is this just the beginning of more resignations?
One of my readers commented on yesterday's article. He said he wants to know the "true why."
I agree. I think we should be concerned why Kipng'etich really left, especially now with Kenya's wildlife in such a state of turmoil.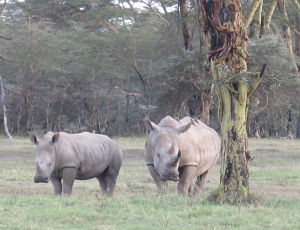 As of this writing another rhino in Chyulu Hills is now gone. His body riddled with bullets.
That said, the reason why Kipng'etich left may play a role in who fills the director's boots next.
One can only pray that whomever takes over will push any ideas of corruption aside, and work together with the global community in unity to decimate poaching and poachers once and for all.