The Kenya Wildlife Service has relocated the three cheetah cubs to Nairobi National Park's orphanage. The latest video portrays the cubs in a cement cell. Even if they are moved within the orphanage is this in their best interest?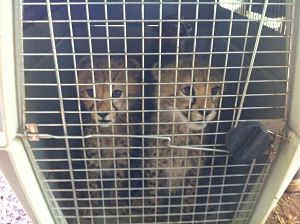 Unless dire circumstances dictate, every option should be explored and implemented to keep wildlife in the wild. After all that is what the name wildlife means.
In this situation the option to move the cubs to an orphanage instead of rehab and reintroducing them into the wild within the Mara Conservancy as conservancy officials were in the process of doing may backfire.
The international outcry over this debacle is enormous and one can only think that perhaps tourism dollars will be lost as a result. My safaris will never include Nairobi National Park's orphanage unless clients request a visit to the Sheldrick orphanage.
The following is a statement from Sybelle Foxcroft, wildlife biologist and CEO of an Australian based organization www.Cee4life.org
"The situation with the cubs from Mara conservancy is tragic, not just for the cubs themselves, but also regarding the law which KWS is bound by. The very definition of conservation means to protect wildlife and the environment, both plants and animals sustainably. This is both the law which KWS work by and which Mara Conservancy work by. Ironically, each organisation involved in this has done their job exactly inside the laws which both are bound by. KWS has adhered to their law, and Mara Conservancy adhered to the conservation and protection of the Mara Triangle that they are deemed to do. There is a gap between the framework in which KWS has to operate and places such as the Mara Conservancy. And it is that gap which has resulted in 3 protected cheetah cubs taken for a release program and put into the Nairobi Animal Orphanage, which has a history of no animals being released. This is the tragedy as these 3 cubs were vital for the gene pool of the Mara Serengeti area. Now that the problem area has been identified, it must be fixed. Cee4life is willing to work with KWS Director to bridge the gap between KWS wildlife law structure and a create mandated cheetah release program. In the meantime, an urgent agreement must be made to ensure that these cubs are returned to Mara Conservancy as soon as possible so the cubs can continue their journey towards release into the wild. This benefits the cubs and all parties concerned. The Cheetah are IUCN listed vulnerable species, every cheetah counts."
There still may be time for these cubs.  Please go to the petition site to sign the petition 
Photo courtesy of anonymous