Last weekend the Kenya Wildlife Service hosted their annual wheelbarrow race in Hell's Gate National Park, aptly named "To Hell's Gate on a Wheelbarrow."
Hell's Gate was named after a narrow break in the cliffs. But where "hell" came from mystifies me.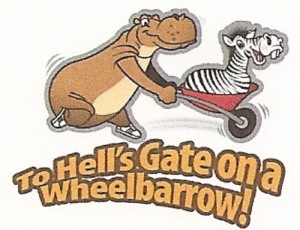 In the late 1800s two explorers, Fischer and Thomson, who labeled the park, would have stumbled upon a gorge with geothermal steam belching from the earth, hot springs, and volcanic towers – all framed in colorful sandstone cliffs. I suppose when they saw the place it looked more like hell than it does today.
The park is 62 miles northwest of Nairobi, near Lake Naivasha in the Rift Valley – just a day trip away.  It's a great excursion to include on safari itineraries, but for some reason most companies don't offer the option.
Hell's Gate is one of two parks in the country where an escort is not needed, so visitors can mountain bike or hike, practice their climbing on one of the volcanic towers, or check out the diverse display of birdlife and wildlife perhaps spotting one of the big cats.
But back to the race. It looks like fun and it's becoming quite popular. It's considered a corporate team building event, and I can see why since there has to be cooperation on who pushes and who sits in those decorated wheelbarrows. And since it's a three mile course that decision should not be taken lightly. 
Funds from the event go towards the construction of the park's conservation education center that will aid in community outreach programs, ultimately reducing human-wildlife conflict.
Once again the Kenya Wildlife Service has done a great job.  Next on their agenda – the "Ride with the Rhino" bike race through Lake Nakuru in September.
 Links referenced in the article:   www.kws.org